Meet our Junior Champion - Denby Carswell
---
Denby Carswell used an old school game to triumph over a tough field.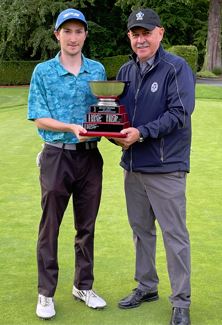 ---
Denby Carswell is Zone 4's new junior champion, and in a couple of ways something of a throwback. That was in evidence during the final round of the 36-hole championship, played on June 12 at Vancouver Golf Club.
Heading into the round, Carswell was tied for the 18-hole lead with Point Grey's Ryan Liang at 3 under par, after he carded no less than nine birdies at Squamish Valley Golf Club the day before. He sailed through the front nine at one under, good for a three-stroke lead, but ran into trouble on Vancouver Club's stout back nine, which measures more than 3,600 yards.
In the contemporary manner, the other three players in Carswell's foursome shaped most of their drives and iron shots high in the air. Carswell plays a much lower trajectory, in many cases slinging them only a few feet off the ground. "It's something I work with," he told us afterward. "And it helps on a windy day like this."
On 17, though, Carswell's drive leaked right, hitting one of the tall conifers that line Vancouver Club's fairways and bouncing another 30 yards right, deep into the trees. His sideways recovery shot left him some 150 yards out while needing to keep his ball only a couple of feet off the ground due to overhanging branches, a feat he accomplished to save a bogey.
That looked to be a crucial advantage on 18 after both players missed the green left, and Carswell skittered his pitch out of thick rough well past the pin and onto the fairway. Liang ended up in slightly better shape, but only Carswell was able to get up and down, leaving him with a two stroke win, whie Liang tied with George Zhou for second.
It's not just Carswell's lower trajectory that gives him throwback status, however. Instead, it's that he doesn't play out of one of the private clubs but rather Fraserview Golf Course, one of a half dozen very busy munis within Zone 4's borders. The recent Grade 12 graduate says that hasn't been an issue for him, even with the difficulty in getting tee times since the Covid golf boom. "Playing as a single, I can usually get out in an hour or so," he says. "In the meantime, I practice."
Zone 4 Junior director Greg Moody wasn't surprised to see the players struggle coming home. "I think Vancouver Club may have the strongest closing stretch in the zone," he says. "Both courses were in excellent shape," he adds, "and couldn't have been more of a pleasure to work with."
The weekend closes out Zone 4's Junior season, consisting of eight 18-hole tournaments leading up to the championship. Both the championship and order of merit were taken into account in determining the Zone's teams in the provincial Junior championships, to be held June 27 to July 1 at NkMip Golf Canyon Desert Golf course in Oliver, and for the BC Summer Games, to be held July 21 to 24 in Prince George. Carswell joins Nathan Szpakowicz and Luke Spencer in the former. Liang joins Szpakowicz and Forest Van Alstine in the latter, which will play as Zone 5.
- Jim Sutherland