<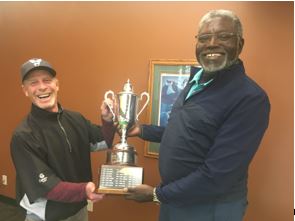 ---
Brad Cochlin is a one-time ski instructor and self-described mudder who plays out of the mountainside Squamish Valley Golf Club, so maybe it's not surprising that he proved to be the last man standing after the demanding 36 holes that made up this year's Zone 4 Senior Championships.
Cochlin shot a sterling even-par 72—five shots better than anyone else in the field—to come from well off the pace to win in a two-man playoff following the final 18 holes on April 26 at Seymour Golf and Country Club. The day featured the weather equivalent of a Gordie Howe hat trick: occasional glimpses of sun, frequently interrupted by rain, wind squalls and—because it was April on the north shore, after all—a massive hail storm accompanied by distant thunder and lightning.
Surprisingly perhaps, Cochlin describes his round as having been relatively routine, with almost all fairways hit, lots of greens in regulation and solid putts that fell more often than not. "It was just another walk in the park," he says.
That was in contrast to his first 18 holes, played on April 11 at Beach Grove Golf Club. There, on a day when the sun shone brightly but the winds gusted to 70 kilometres per hour, his putts very much failed to drop, and the three-handicap ballooned to an 80, which had him tied for 13th, nine shots behind first-round leader Mike Kennedy of Seymour.
Both courses were in beautiful condition—"remarkably so considering this year's wet and chilly spring," says Zone 4 Senior Chair Lexx Potter, who extends his thanks and congratulations to the courses. At Beach Grove the challenges were the gusty winds and some very slick greens, stimping in the vicinity of 11. At Seymour the difficult weather conditions were further complicated by the abundant topography and numerous tricky pin positions.
In theory that should have helped Kennedy, but the first-round leader ran into back-nine trouble on his home course with five bogeys in six holes. He still had a chance to win the championship outright on the par-5 18th, where he had a short birdie putt, but that lipped out, giving him a two-round total of 152, and forcing a playoff with Cochlin.
Both men had finished their rounds before the hail storm briefly halted play, but by the time they were ready for a play-off, a thick layer of rapidly melting ice pellets carpeted the ground. With Seymour head professional Dale Schienbien refereeing, the two teed off on the short par-5 first hole, the intent being to sweep hail stones off the greens in order to putt.
That didn't prove necessary, however. Kennedy's first drive went out of bounds, and his second found a bunker. After Cochlin's drive split the fairway, he resisted the urge to go for the green in two, and instead left himself an easy wedge to a few feet from the pin, leading to a concession.
Cochlin and Kennedy will be joined on the Zone 4 team competing in this year's provincial Senior Championship, held July 24-27 at Uplands Golf Club in Victoria, by Hein Marcus of the BCGA Players Club and Claude Nobauer of Vancouver Golf Club, each finishing two strokes behind at 154. "I'm looking forward to it," says Cochlin.
- Jim Sutherland